14. Juni 2019 — Circus – Pride Arena- UNITED OPENING PARTY @ Arena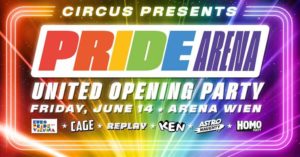 checkit! wird mit Information, Beratung und Analyse dabei sein!
WANN: Freitag  14.Juni.2019 ab 23:00
WO: Arena, Baumgasse 80, 1030 Wien
For one night only Vienna's most popular gay parties will unite to host the biggest EuroPride Vienna 2019 kick-off celebration 50 Years in the making!
Together & Proud we will paint Vienna all the colors  of the rainbow and party like never before!
Line Up:
★ Gloria Viagra (Berlin)
★ Tamara Mascara (Astronaughty)
★ DJ Shane (Ken Club Vienna)
featuring: GoGo Dancers XXL LED Wall & SFX
CAGE XXX hosted by Circus & Replay Party – Vienna
Line Up:
★ DJ Jack Chang (UK)
★ Andi Mik (Replay Party – Vienna)
Techno Dark Floor & Play Zone
★ DJ Housegeburt (Munich)
★ DJ Mart.i (Astronaughty)
featuring: Tribal Circuit DJs & Naughty Live Shows
Haus of Homos hosted by Homo.Party
★ Dalia Ahmed (radio FM4)
★ Simon O'Fischl (Homo.Party)
featuring: Funky R&B DJs & Drag Shows
…and many more surprises!
more Infos:
http://www.thecircus.at/